Frequently asked questions
about CoWork
Our coworking spaces offer companies an inspiring work, meeting and event space in Savilahti, Kuopio. It works for remote working, as a flexible extension of your own premises and as a representative networking and meeting place.
Buy a Desk pass
Request an offer for a workspace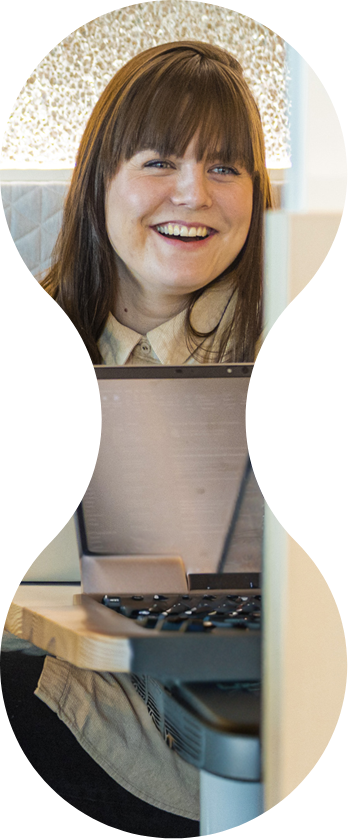 Using and getting to know the CoWork area
What is coworking?
Coworking, as the name suggests, means a communal space that serves companies and employees in the transformation of working life. Project work is increasing, employees are more mobile, and working days are expected to provide variation and inspiration.
For a start-up or a small entrepreneur, the coworking space provides a state-of-the-art environment to meet customers and partners. Commuters, remote workers and international employees appreciate comprehensive services and ease of access.
For large companies, coworking spaces provide flexibility when the number of staff varies according to projects or space is needed for team days or events. Offering versatile workspaces is also part of today's business culture, where workers appreciate the opportunity to also work outside of a brick-and-mortar office.
What is CoWork? An always flexible working environment.
CoWork is Novapolis' proprietary communal service concept. In our versatile CoWork facilities, you can work peacefully alone or together with others. It is an addition to your office when you need space and peace and quit or want to be inspired by your environment.
Our large CoWork space has tranquil workstations, space for quiet working, soundproof meeting boxes for small or large meetings, and communal and vibrant meeting places. In addition
To make your working easier, we have paid attention to ergonomics and technology. For example, in our space for quiet working, every workstation is provided with electric desk and some of the workstations has screens, mice and keyboards.
Why CoWork? Always new experiences.
Work is rapidly changing, and hybrid work is the order of the day. More and more people want to choose their working environment according to their life situation, work tasks or the mood of the day. It can be an office, a remote workstation, or a cosy, communal and collaborative CoWork working environment.
We want to contribute to enabling flexible hybrid work in Kuopio. To this end, our CoWork environment offers an exclusive setting where we have paid special attention to versatility, comfort, visuality and atmosphere. Do you know that feeling of excitement when you enter a fascinating space? Think what it would be like to work in such a place.
Workspaces must be functional, but above all comfortable. In the 2020s, work is expected to also involve vibrance and aesthetics. In addition to natural light, cleanliness and good acoustics, workspaces stimulate creativity and bring people together. Above all, they work in different situations – alone, together and privately. We have wanted to bring light, plants, warmth and elements close to nature, such as wood, to the interior design of our CoWork environment.
In the same environment, you can conveniently work in peace and meet others, whichever suits you best. CoWork creates a more versatile working day experience for you in the midst of a vibrant community. Our community driven CoWork brings a stimulating change to a home office, commuter and self-employed entrepreneur, or to anyone who wants a change of routine.
The space and interior design of our large CoWork environment are provided by Kuopio-based Partanen & Lamusuo Oy and Hiili & Timantti Oy.
Can I come and explore CoWork? Does it cost something and how can I book a tour there?
Yes! You can do a quick spin in the space and we are happy to introduce it! If you want to work all day, the price of a day pass is €19 + VAT.
If you want to come and get acquainted, send a message to cowork@novapolis.fi!
When I come to CoWork for the first time after purchasing a pass, how should I proceed?
Come to the CoWork Crew in the reception service to tell them that you have the right to use the CoWork space, we will give a small guide to the area and the "Novapolis CoWork" application.
How do I get to the CoWork area? Do you need an access key?
You don't need a separate access key for Microkatu! Our "Novapolis CoWork" app works as a key to the space and Meeting Boxes, so please download the app from the app store.
When you come to Viestikatu, ask the CoWork Crew in the reception service for a key to get to the CoWork area.
If you are a Viestikatu customer, the CoWork right will be programmed into your existing key.
What are CoWork's opening hours?
Our CoWorks are open on weekdays from 7:45 A.M. to 9:30 P.M.
The CoWork Crew is on site on Mondays, Tuesdays, Thursdays and Fridays from 8:00 A.M. to 4:00 P.M. and on Wednesdays from 8:00 A.M. to 2:30 P.M.
If I have a CoWork pass, do I have to use CoWork every weekday?
You can use the space as it best suits to you. Many divide their working days between home/office/CoWork, according to work tasks.
Come to CoWork for a couple of days a week, get a delicious lunch and refresh yourself by changing places.
If I have a CoWork pass, do I have to spend a full working day at CoWork?
Come as you like, make one presentation or hold one Teams meeting in CoWork for a change and return to the office or wherever your way takes you.
Does it cost to use a quiet workspace?
No it doesn't, the space and its equipment are part of the right to use the CoWork space.
Is it possible to heat your own snacks at CoWork?
Yes, there is a kitchen on the 3rd floor with a coffee maker, microwave and refrigerator. You can store your snacks, coffees and filter bags there.
Are there lockers for storaging at CoWork? Does it cost to use?
There are a few lockers, where you can leave your things for a while free of charge.
CoWork passes
I am a customer company / organization of KPY Novapolis. How can I get CoWork passes for my staff?
What different types of passes are available for CoWork?
Day pass
Day pass + parking
Monthly pass
Monthly pass + parking
Fixed Desk weekly membership
Fixed Desk monthly membership
I am an external consumer. How can I get a CoWork pass?
In what different ways can I pay for the CoWork pass?
For our tenants, CoWork is part of the service package free of charge, for others it is most convenient to buy it with a bank/credit card from the Novapolis CoWork app.
Can the CoWork pass be purchased from the reception service?
The easiest way to buy a pass is through the Novapolis CoWork app! We recommend this. The Service Experts of our reception service will help with challenges.
Does the CoWork pass include parking?
You can choose a pass that includes parking in the parking house, convenient!
The price is €109 + VAT.
Does the CoWork pass include lunch?
Not included, but the lunch is tasty, we recommend using the restaurant's services. Special coffees and snacks are also available 24/7.
Parking and arrival
How much does parking cost and what options are available?
Parking in the yard areas and in the parking houses is €2 / hour (+ operator's service fee) with the mobile application (EasyPark and Parkman).
Day parking in the parking house is a maximum of €9 / day / parking time (+ operator's service charge).
You can also buy a monthly pass + parking package, which includes parking in the parking house.
Check out our parking price list: www.novapolis.fi/en/parking-prices/
Where can I get a parking permit?
Is there a shuttle service or connected parking to CoWork?
Not for now. In the summer Vilkku city bikes and electric scooters are handy, remember to wear a helmet!
I have meeting guests coming. Do they have to pay for parking?
If I want, can I park either in the parking house or in the yard?
Yes, the Easypark and ParkMan apps work with payments. Check out our parking price list:
www.novapolis.fi/en/parking-prices/.
If you have a parking permit in the Viestikatu parking house, you can drive your car directly to the Microkatu parking house.
After this, please go and inform the reception service of CoWork / M-part that you also have a parking right on Viestikatu.
If you have a parking permit in the Microkatu parking house, you can drive your car directly to the Viestikatu parking house.
After that, please kindly inform the reception service service of CoWork / Viestikatu 7 that you also have a parking right on Microkatu.
Is it easy to get there by public transport?
Numerous buses stop at or near Novapolis, and the new underpass tunnel provides convenient access to the campus.
The Vilkku -application helps with bus research.
Menen pyörällä. Onko pyöräpysäköinti helposti saatavilla ja maksaako se?
Cycling is the best! Our basic bike park (BikeZone) is free and close to the entrances.
On Viestikatu, there is an opportunity to rent a place for a longer period in the warm and access-controlled BikeZone Premium. You can get more information about this from our service experts at the Viestikatu 7 reception service service.
Is the bike park monitored by cameras?
Unfortunately, our basic bike parks, i.e. BikeZones, are not monitored by cameras.
Viestikatu's BikeZone Premium has access control and a surveillance camera.
Meetings and Meeting Boxes
Does the reservation of Meeting Boxes cost?
Yes, Meeting Boxes with sofas for 2-4 people are €8 per hour + VAT. Larger Meeting Boxes with chairs for 4 people are €12 per hour + VAT.
How do I reserve a Meeting Box for a meeting?
The "Novapolis CoWork" app is the most convenient of all for booking, canceling and paying.
You don't have to have access to the CoWork space to book a Meeting Box. You can also request a reservation from the reception service, but there will be a €5 service fee, so the App is recommended!
Can lunch meetings be held in the Meeting Boxes?
Absolutely, great idea! Meeting Boxes bring the calmness required by the meeting to the discussions!
You have to make a reservation for the Meeting Boxes, which is easiest through the Novapolis CoWork app. Apply and pay for your lunch at the restaurant counter, and enjoy the meeting.
Is the pricing of Meeting Boxes different for KPY Novapolis tenants and other consumers?
Everyone has the same price.
Is there a maximum time limit for Meeting Box reservations?
What equipment can be found in the Meeting Boxes?
Microkatu's Meeting Boxes are equipped with a screen, camera, speaker and microphone, as well as sockets.
Viestikatu's Meeting Boxes are more intimate, where you can best have a meeting with your own laptop.
The lighting and air conditioning of the Meeting Boxes can be adjusted.
What different payment methods can I use to pay for Meeting Box?
Through the app with a bank or credit card, as a tenant customer the payment goes to invoicing or you can pay at reception service with a card, in which case there will be an additional €5 service fee.
Do my meeting guests have to pay separately for using the Meeting Box?
They don't. One booking fee and you can invite them without a pass and additional fees to the meeting as your guest for the duration of the meeting.
Can my meeting guests stay in the CoWork area after the meeting?
A day pass costs €4.90 if you want to buy it for your customer. If they want to buy a day pass themselves, it costs €19 + VAT.
Can I rent the entire CoWork for my company?
Is there a space in CoWork that I could rent for e.g. 30 people for my company's private event?
Are there points in CoWork that are protected from view?
Yes, there are tapes on the windows of the Meeting Boxes and Gastro cabinet to bring safety.
Can the booths be locked?
Yes, excluding Phone Boxes. You can ask our CoWork Crew about locking the Meeting Boxes.
Can I order catering for my meetings?
Absolutely, we will be happy to serve you:
Would you like to come and visit our CoWork environments?
Contact our CoWork Crew and come and visit us on the spot! We will help you choose the right service and use the area and answer any questions you may have.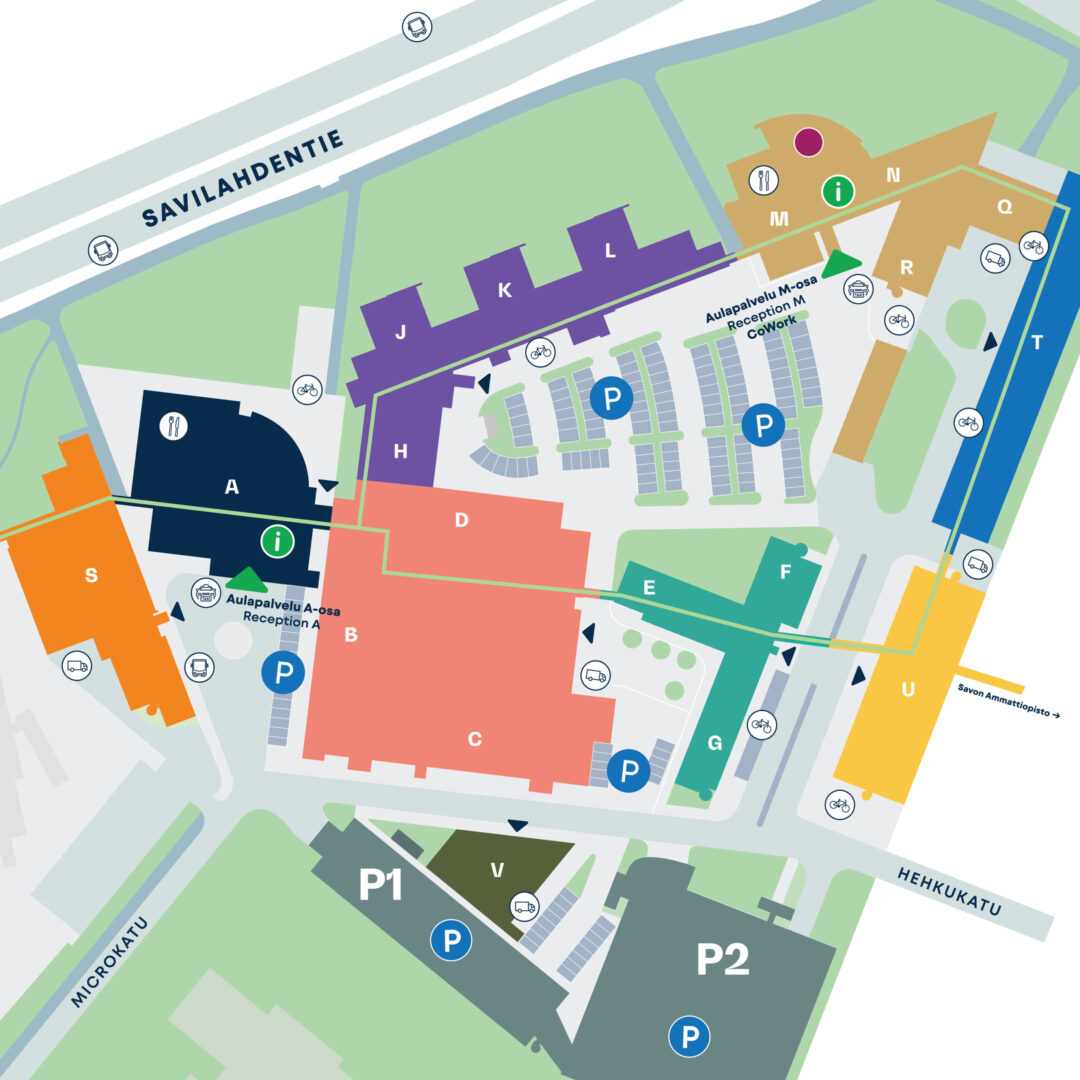 Location
Our CoWork spaces can be found in Savilahti, Kuopio. The Microkatu campus is located opposite Prisma and the Viestikatu campus is closer to Kuopio University Hospital KYS.
KPY Novapolis
Microkatu 1, M-part, 1st floor
70210 Kuopio
KPY Novapolis
Viestikatu 7, 1st floor,
70600 Kuopio
Changing workstation
€19 / day + VAT
€59 / month + VAT
Fixed Desk
€59 / week + VAT
€159 / month + VAT
Microkatu 1, M-part, 70210 Kuopio
Tel. 046 870 4010

Viestikatu 7, 70600 Kuopio
Tel. 040 718 9415

Own workspace
For you or your company
customized own workspace
Microkatu 1, K- ja L-parts, 70210 Kuopio
Tel. 046 870 4010

Viestikatu 3, 70600 Kuopio
Tel. 046 870 4011
CoWork Crew at your service