City of Experts.
Novapolis.
KPY Novapolis is a pioneer in the modern working day experience. We have everything you need for your business – adaptable premises, services, experts, and responsible purchases.
With us, you become part of a vibrant community and actively involved in building the competitiveness and vitality of our rapidly growing region.
Discover our story
KPY Novapolis
Premises
Always living premises
Each Novapolis is located along excellent transport links with Savilahti in Kuopio and Toivala in Siilinjärvi. Rent premises that suit your business with services on a one-stop shop basis. Grab the keys and enjoy your working day!
We are the clear market leader in the Kuopio region for providing commercial premises. Our popular premises are already provided for around 200 customer companies and communities. We welcome you to join this unique community of 15,000 professionals!
We will gladly arrange tours of our premises. Get in touch and come and explore!
Meeting Rooms
Workshop, training day, employee sauna evening, housing company meeting, representation event, or a larger seminar – there's a place to suit all! Our competent staff will support and help you organise a successful event with delicious servings to make the day perfect.
Experts
Pondi brings together thousands of experts, students and jobs. The growing Savilahti talent pool, Pondi, is a service that provides the competent talent and professionals needed for your business.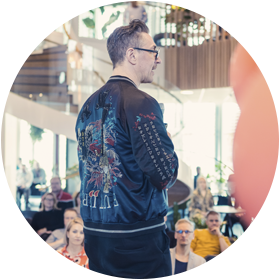 Events Calendar
At our events, members of our community meets in cheerful and communal spirit with conversations of variety of topics. From our events calendar, you can see the upcoming events in our community. Come with!
Services
Keep working without worries
It's easy to arrive at work when all the services you need are ready, and leaving work is worry-free. This is why Novapolis is always with you during your working day. We have you covered with helpful, ready-made services that take care of everything from daily operational needs to any unexpected situations that may arise. We can even tailor our services to meet your specific needs. You should also consider the services provided by our partners to make things run even smoother. Work will always be work. But we're here to make it as productive and enjoyable as possible for you and your staff.
Take a look at our services
A lively working day ahead

References
"When choosing our premises, it is important for Väre that we are part of a larger community of enterprises. At KPY Novapolis we value good transport connections, networking opportunities, various events, and excellent reception, meeting and restaurant services. Among our staff, the most popular services are lunch restaurants and cafés".
– VÄRE OY

Novapolis Community
The community will provide energy that you can take home with you. The success of our community is truly linked to your company's success. Once wellbeing is ensured, our shared vitality and happiness grows. Welcome to the positive cycle of business power.

Partner Services
We want to make your every day as fluent and easy as possible with the help of our partners. We have carefully chosen professional partners to provide you with high-quality services on competitive terms.